The programme brings ambitious students to RoboHouse where they get practical experience with all aspects of real-life robotics. The students work in multidisciplinary teams to create a robot prototype from scratch, for project clients such as The Heineken Company, Siemens and Pieter van Foreest.
Demo Day
On 21 January 2022, the robots of the Minor Robotics 2021-2022 were presented in RoboHouse. Further down you will a full project overview of this high quality edition of Demo Day. But first, here's a recap with some highlights:
Team 1 S.L.I.C.E.
The S.L.I.C.E.
Semi-automatic Loaf Incasing Cutter Extraordinaire
The S.L.I.C.E. makes the life of a supermarket employee in the bread department easier. A loaf of bread can be sliced, put in a bag, and sealed in just a few moves with the help of the machine. When the loaf is put into the machine, it is moved to the next section where it gets sliced. A bag is held open by a stream of air while the bread is pushed inside the bag. The last step is the sealing of the bag, after which the employee can put the bread on the shelving unit.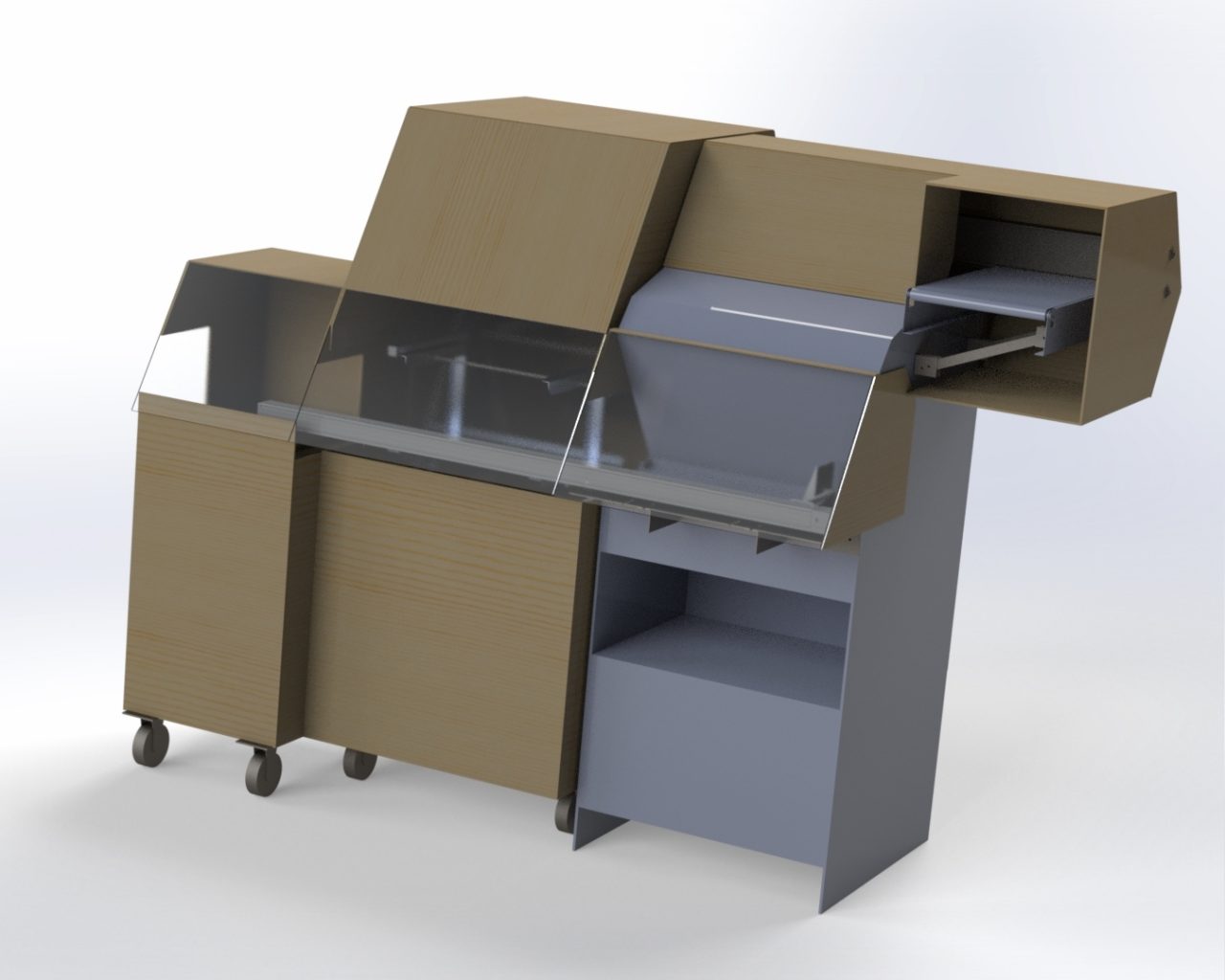 This project is commissioned by AIRLab Delft.
Team 2 B.I.E.R.
Finn
Automating Heineken's final packaging quality checks
Package quality checks are the final checks performed on the products produced in Heineken breweries around the world. This process is currently done by operators, who perform sample checks on each of the production lines manually. For example, an operator checks a crate of beer bottles each hour, checking the quality of both the crate and each individual bottle. Since the operators are overqualified for this task, which takes time away from their primary work, Heineken has the aspiration to increase the inspections' frequency, efficiency, and objectivity by means of automation.
To prove this concept, team B.I.E.R. has created a prototype called Finn. Making use of a robotic arm, Finn is able to inspect crates and bottles for defects and imperfections. This is done by taking pictures of the crate, and moving the bottles to a 'photo booth' where they are scanned under controlled lighting conditions. After all pictures have been analyzed using different techniques of image processing, the results are shown on a screen mounted to the robot. This way, operators can check the detected defects with the corresponding bottles, which Finn has put aside.
With the help of Finn, the operators will have more time to focus on what they are really good at, while simultaneously increasing the quality of the checks.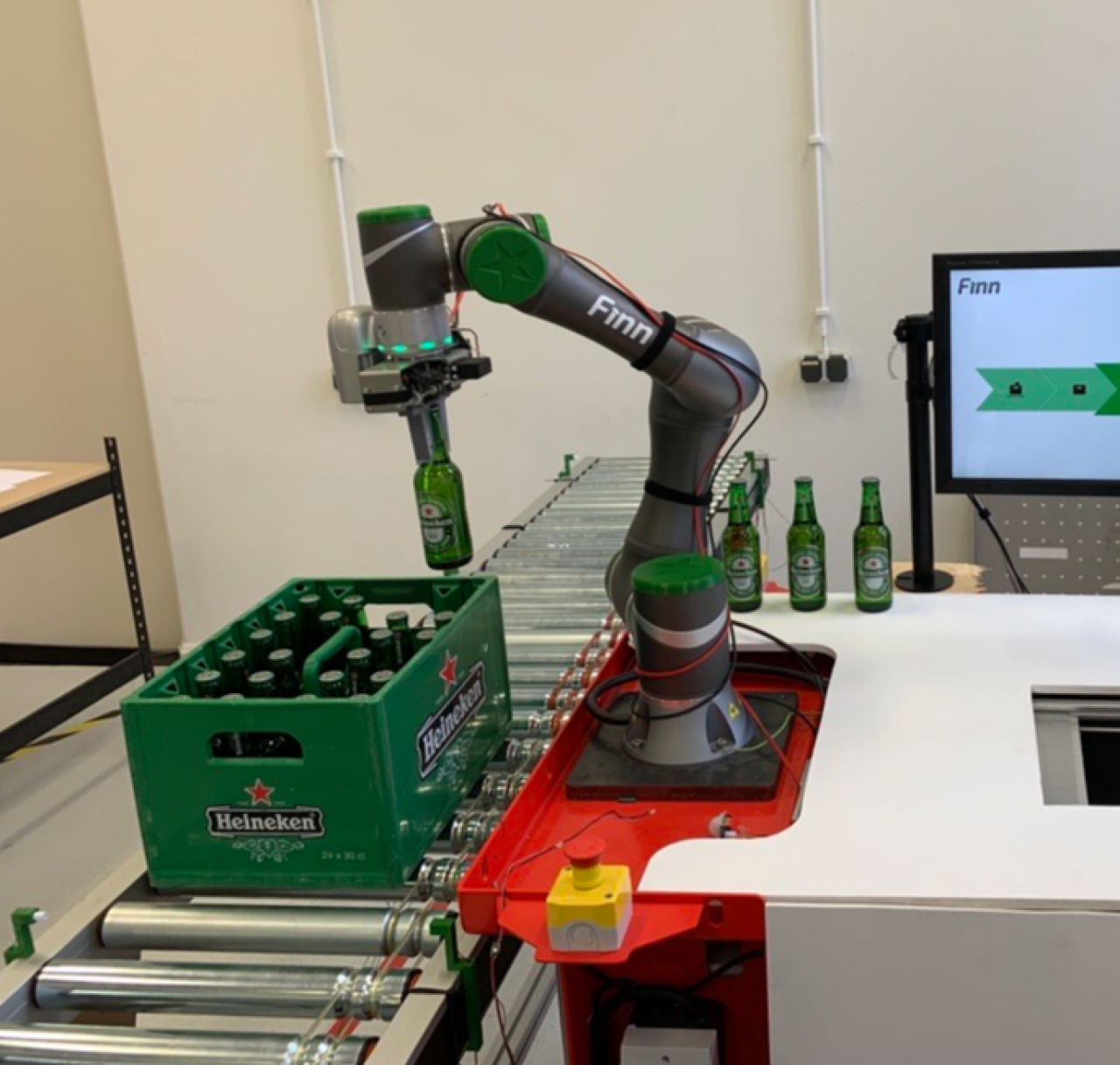 This project is commissioned by Heineken.
Team 3 Oobot
Oobot
Your social companion
Elderly with dementia in Dutch nursing homes often do not get the attention they require as there is a shortage of professional caregivers. This can potentially worsen their condition and cause them distress and anxiety. Therefore, to contribute to improving elderly's well-being, we developed Oobot – a social companion. This friendly robot helps to combat people's loneliness by engaging in oral conversation. Not only can Oobot sing songs and tell stories to elderly, but the carebot also catches their attention by its dancing moves. This robot is specifically designed to comfort elderly when they are restless and to remember key aspects of their lives to help them when their memory has deteriorated. This is when Oobot shows its true potential.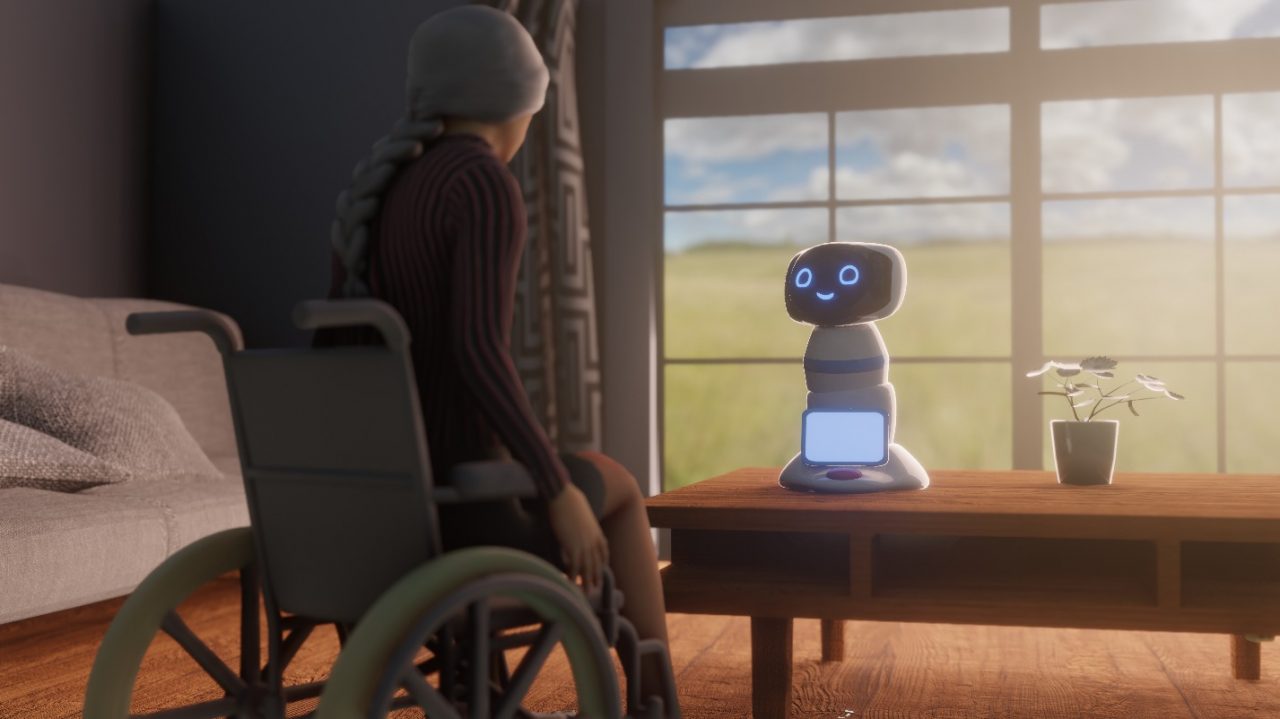 This project is commissioned by Pieter van Foreest.
Team 4 Ducky Robotics
Complex Cleaning Robot
We will clean your hard to reach areas!
Good lighting is essential in cow barns for a high level of milk production. The innovative agriculture company Lely has recognised this, and produced a set of lamps capable of producing the necessary amount of light, which are suspended from the ceiling, which means most lamps are up to 6 meters high. These lamps get very dirty however, and are equally hard to clean by humans. This is where the robot created by the team of 6 engineers of varying educational backgrounds, called Rubber Duck Robotics, comes in. This robot is a combination of a drone and a cleaning mechanism, that is meant to autonomously fly up to the light, clamp onto rails on the side of the lamp using a well-engineered hinge system and then clean the light. This is done by using water and a very fast spinning brush that is pressed onto the dirty glass cover of the lamp by springs to keep even pressure during the cleaning process.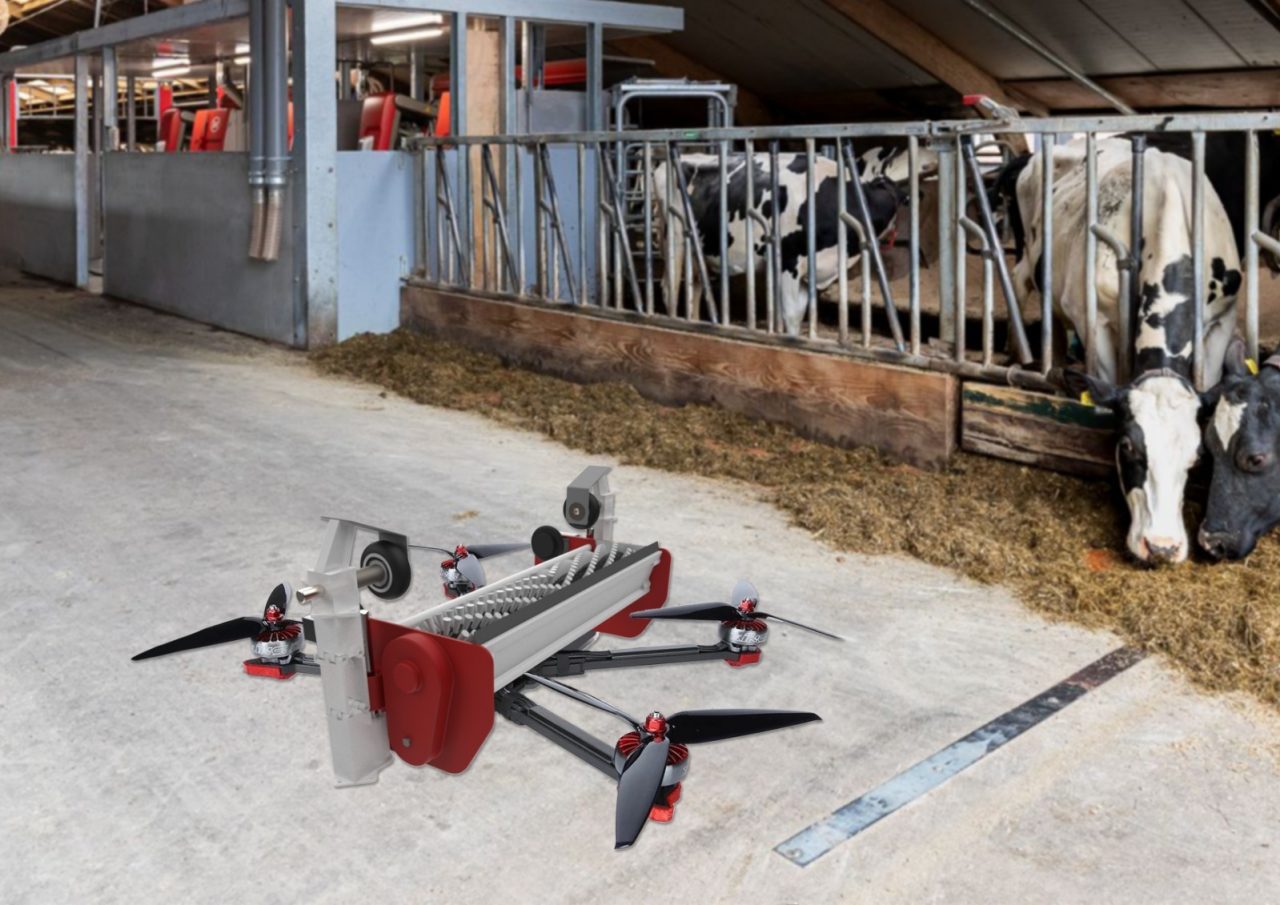 This project is commissioned by Lely.
Team 5 Pristine
Pristine
The Decontamination Robot
In Nuclear Medicine Imaging, radioactive material is used as a tracer to diagnose patients. Patients are injected the radioactive tracer material prior to entering a CT/PET scan, this is often done via an injection in the vein. Depending on the isotope type of the tracer, a patient needs to wait for a certain period. During this period or during the injection, accidents may occur that result in a radioactive spill, a contamination.
Currently the contamination is cleaned with a handheld radiation scanner and a piece of paper that is held via a tweezer. The cleaning staff needs to scan, find, and clean the contamination by hand. This is a tedious process.
Pristine aids the hospital staff by autonomously finding and cleaning the radioactive contamination. The robot is equipped with mecanum wheels for omnidirectional movement, a combination of LIDAR and stereo vision to plan the best and most efficient cleaning path, and finally an easily replaceable roller used for cleaning.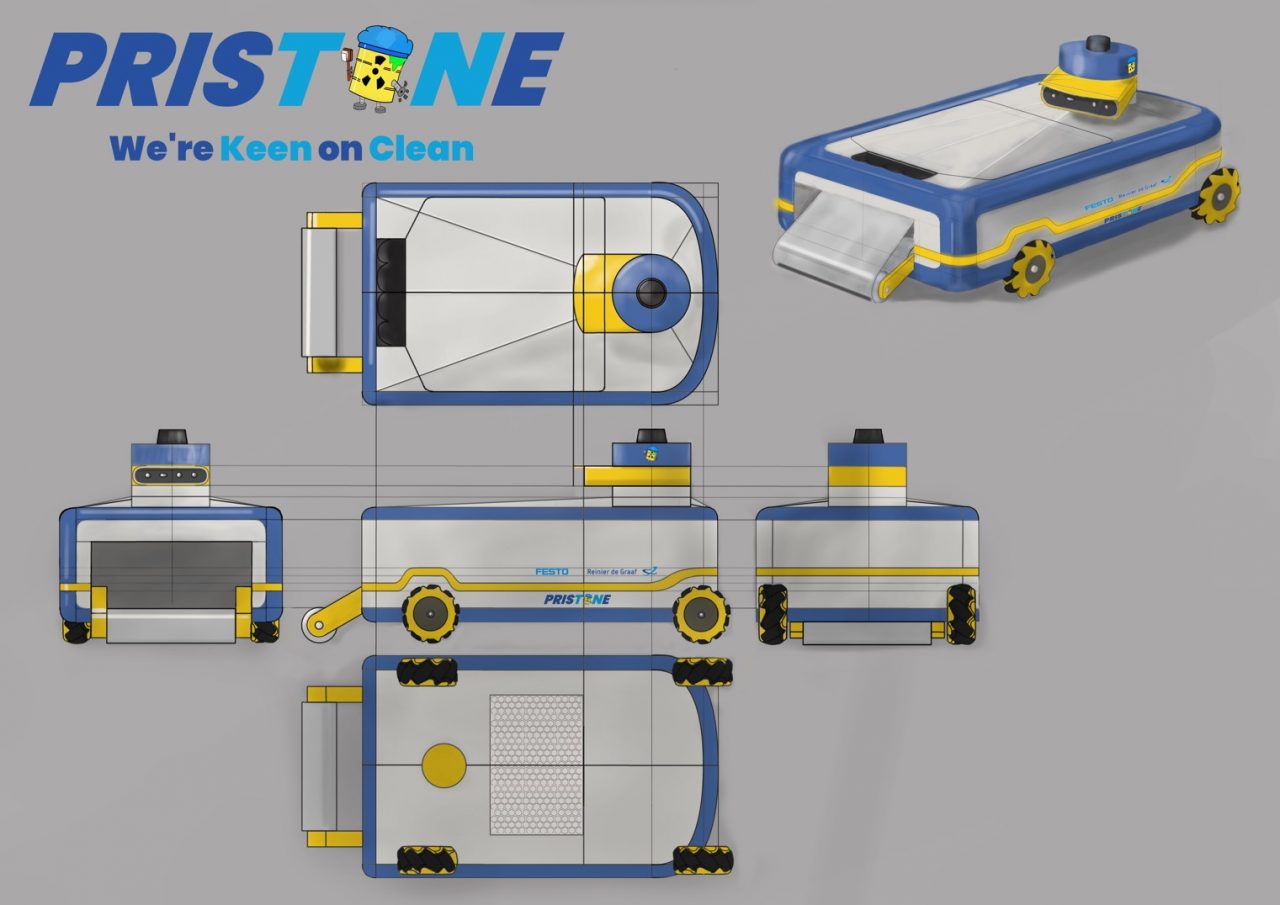 This project is commissioned by Reinier de Graaf.
Team 6 Qafka
TwistBot
The future of twistlock handling
The TwistBot automates twistlock attachment and detachment at harbors. Twistlocks are heavy locks that link containers stacked on top of each other to prevent them from falling over while at sea. Currently, a two-person team handles the twistlocks on each container. These handlers work under heavy suspended loads; this is a dangerous, expensive, and time-consuming job. Twistlock handling also remains one of the few unautomated jobs at a modern port terminal. The TwistBot can handle a twistlock without putting humans at risk. A fleet of these robots can identify and locate twistlocks, position themselves under each corner of a container and manipulate twistlocks to remove or attach them.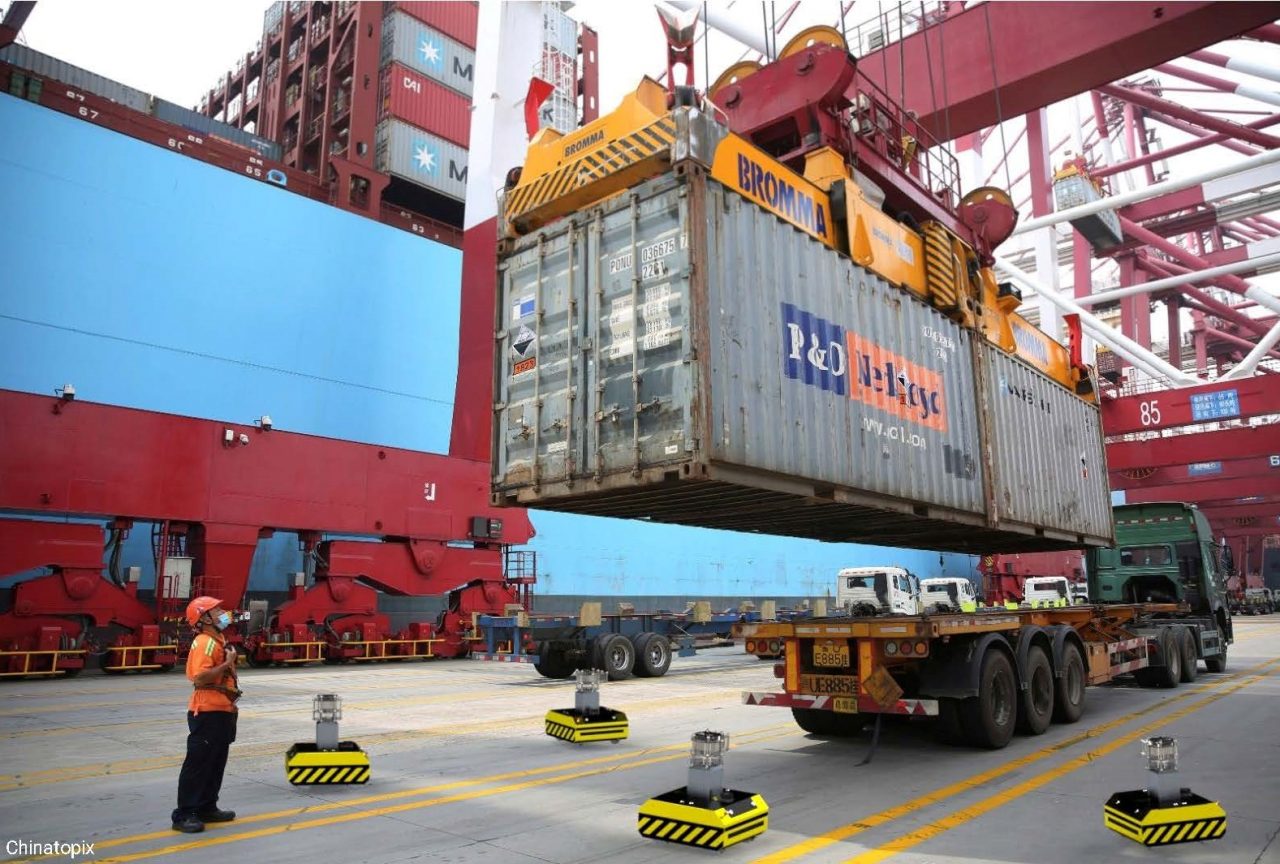 This project is commissioned by Siemens.
Team 7 Tetris
Parcel ULD Loading
The pole-dancing robot that brings semi-autonomous ULD parcel loading to the present.
Over the last few years, online shopping and delivery services have increased at an impressive rate. Parcels, which come in all kinds of shapes and sizes, are sent all over the world. This often requires transportation on aircraft, where these packages are placed inside Unit Load Devices, also called ULDs. Nowadays, ULD loading is still done manually, but we believe we can greatly improve this process by implementing a robotic solution such as Tetris. Tetris is the first pole-dancing parcel loading robot that lets you move and stack packages with a high precision and throughput. The robot is a seven degrees of freedom arm, uses a vacuum gripper to move a wide range of packages and uses advanced vision systems for package detection and finding the best path to get the package to its designated position. The results? Tetris brings efficient and safe semi-autonomous ULD parcel loading to the present and is the start of a journey to fully autonomous parcel loading.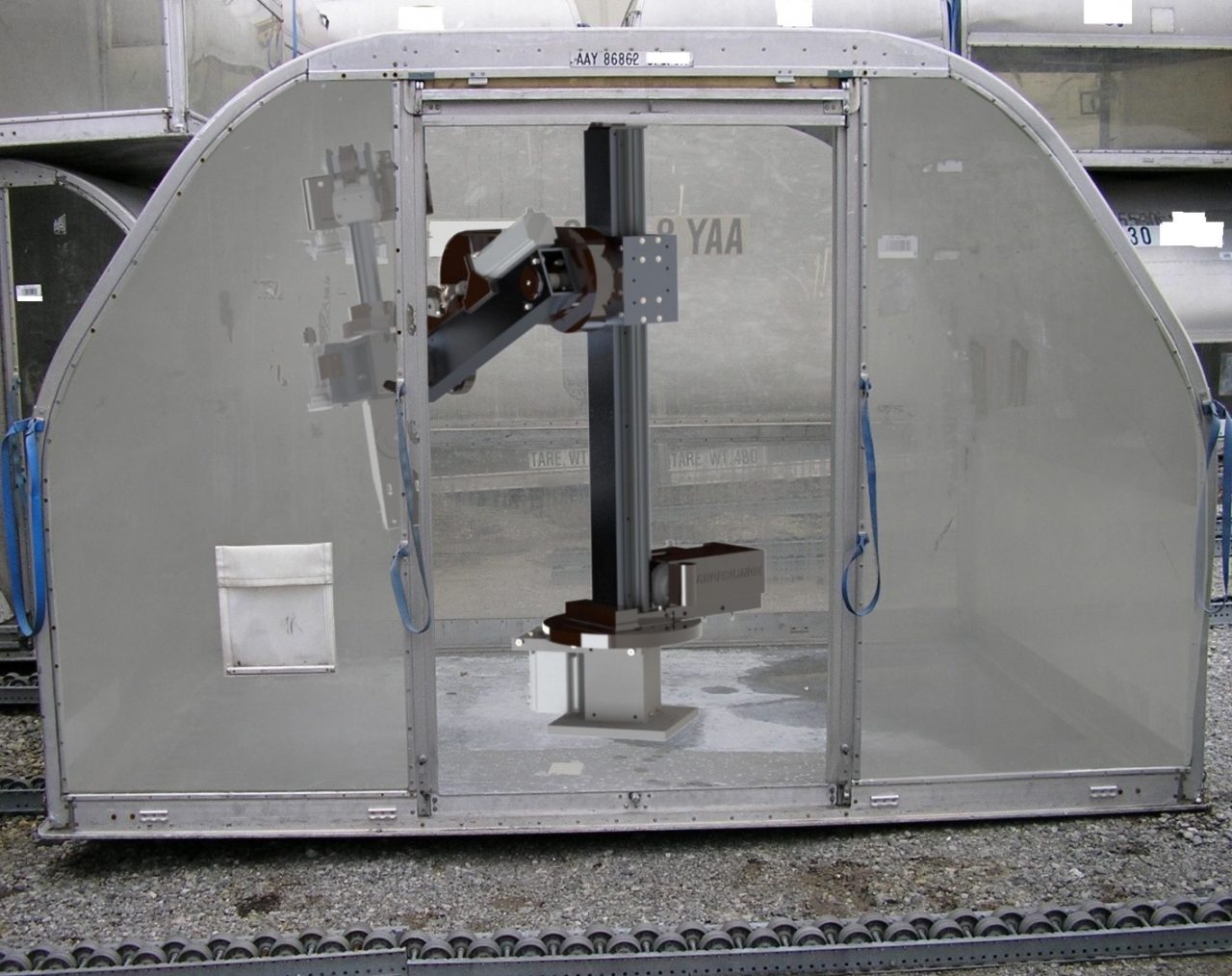 This project is commissioned by Vanderlande.
Team 8 Robust
Litore
Keeping the beaches clean with innovation
Littering is a worldwide problem for which a solution needs to be found. Just on beaches alone millions of cigarette butts are thrown away each year. Litore, the innovative teleoperated beach cleaning robot, aims to change that. By utilizing the new and upcoming VR technology the robot can be controlled over a distance, while the operator can still see what the robot is seeing. With this co-bot setup the operator can identify any litter and then control the robot arm using the VR controller. This amount of control and precision is achieved by top-tier compact mechanical construction, efficient all-in-one pcb design, smart and fast software communication and to top it off an attractive design that motivates beach-goers to help the robot clean up. Which in the end is the ultimate goal of the robot; to active people to stop littering.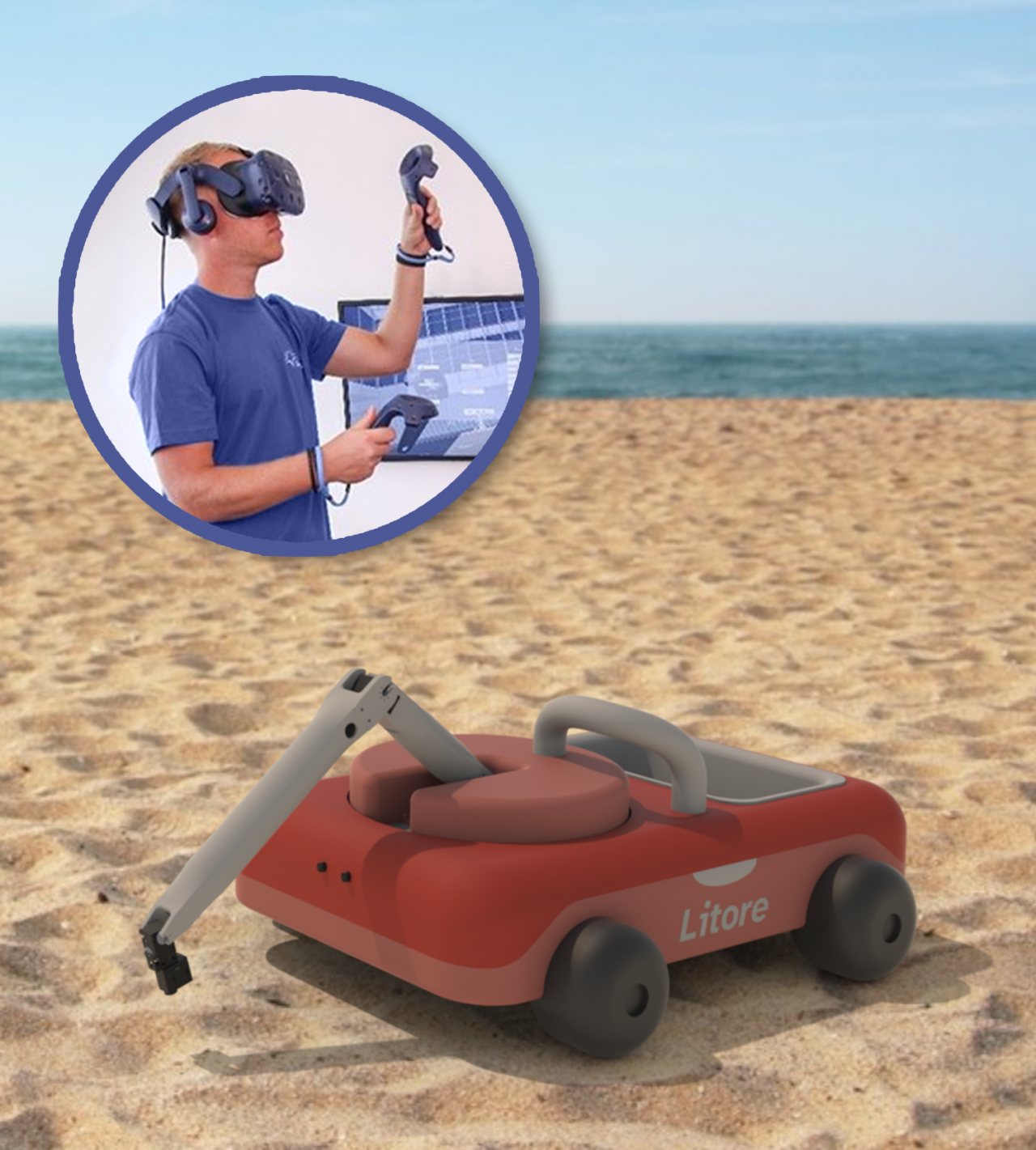 This project is commissioned by TechTics.